Mark Lanegan – Bubblegum
Mark Lanegan, a través de su garganta arenosa, es de esos tipos que puede relatarte la mentira más descabellada y que pese a ello, sonará creíble, tan real y palpable como la aridez de un desierto al mediodía.Ni bien se lee o se pronuncia su nombre, la relación con Screaming Trees, Mad Season o Queens of the Stone Age, es inmediata. Y más allá de que con estas bandas (principalmente con Screaming Trees) expuso talento, crudeza e intuición, no será hasta el 2004 en que con su disco solista titulado "Bubblegum", las características antes mencionadas alcancen un volumen superlativo.
Al momento de su edición, muchos lo catalogaron como un disco de blues. Otros dijeron que no, que la incursión de distorsiones saturadas y bases programadas no le permitía congeniar definitivamente con el género de Robert Johnson. Para nosotros era, es y será Mark Lanegan en estado puro. Despellejado. En carne viva.
Además, por si fuera poco, "Bubblegum" contó con la participación de Josh Homme, Nick Oliveri, PJ Harvey ("Hit the City" es uno de los momentos más resonantes del disco) e Izzy Stradlin. Aunque, más allá de que todas estas personalidades del rock hayan aportado su sensibilidad a la creación de Lanegan, lo que verdaderamente resalta, es que el disco se la banca por si solo.
"Bubblegum", con quince canciones sin desperdicio alguno, es un generador nato de imágenes en blanco y negro. Saturadas. Con el celuloide al borde de las llamas. Es de esos discos con los que se puede imaginar una travesía por alguna ruta californiana o simplemente acompañar, de manera estoica, alguna medianoche nauseabunda de rutina.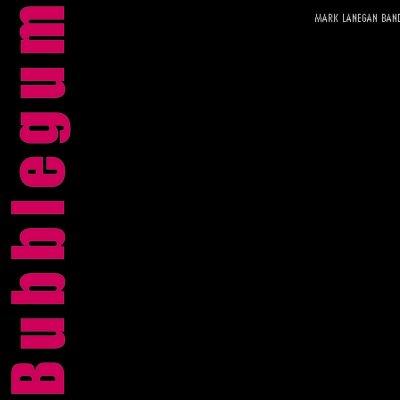 Mark Lanegan – Bubblegum (2004)
01 – When Your Number Isn't Up
02 – Hit the City
03 – Wedding Dress
04 – Methamphetamine Blues
05 – One Hundred Days
06 – Bombed
07 – Strange Religion
08 – Sideways in Reverse
09 – Come to Me
10 – Like Little Willie John
11 – Can't Come Down
12 – Morning Glory Wine
13 – Head
14 – Driving Death Valley Blues
15 – Out of Nowhere